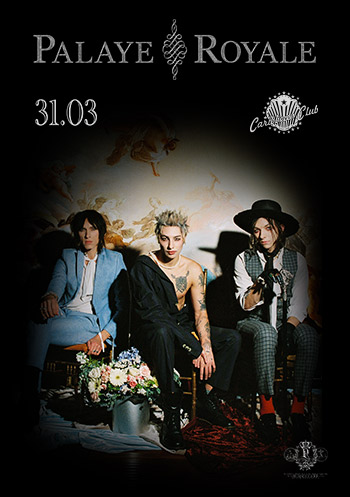 Remained
35 tickets
before the price increase!
Concert Palaye Royale in Kyiv
They will travel more than 10 thousand kilometers to meet us! Americanized Canadians Palaye Royale and a trio of brothers/musicians. They will bring their fashion-art-rock to the capital on 31 March 2022 September.
You have to be there at least for these reasons:
* It is the band's first show in Ukraine.
* Millions of people all over the world admire their music: the music video "Morning Light" already has 21 million views and "Mr Doctor Man" - 7.5 million.
* The musicians are working on new material which is going to be more energetic and aggressive compared to the two previous records.
* They are not only brothers, they also preserve family values with their name as Palaye Royale is a place where their grandparents met.
Buy tickets
purchase without
intermediaries
100% guarantee
of ticket authenticity