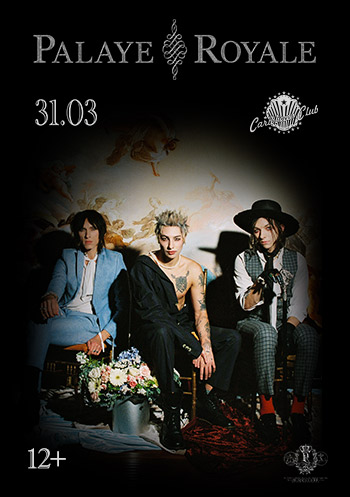 Concert Palaye Royale in Kyiv
They will travel more than 10 thousand kilometers to meet us! Americanized Canadians Palaye Royale and a trio of brothers/musicians. They will bring their fashion-art-rock to the capital on 31 March 2022 September.
You have to be there at least for these reasons:
* It is the band's first show in Ukraine.
* Millions of people all over the world admire their music: the music video "Morning Light" already has 21 million views and "Mr Doctor Man" - 7.5 million.
* The musicians are working on new material which is going to be more energetic and aggressive compared to the two previous records.
* They are not only brothers, they also preserve family values with their name as Palaye Royale is a place where their grandparents met.
Attention! The event will be held in accordance with the quarantine norms introduced in Ukraine and the recommendations of the Ministry of Health, which will be valid for the period of the concert. Please note! You must have a certificate of vaccination (NHS COVID Pass, COVID certificate), or a negative PCR or Express test for SARS-CoV-2 antigen.

purchase without
intermediaries
100% guarantee
of ticket authenticity